Regular live events include 'The Midlanders' alternate Friday nights, playing popular Folk music. Come along and join in!
Live sports TV, including Football, Athletics, Rugby etc Multi screen and large screens throughout the Pub, so everyone has a great view.
Other live music events featuring many new local bands. Watch the website for details.
The Midland has been saved!
Following our campaign to save the historic Midland Pub, we are delighted to announce that common sense has prevailed, and the planners have agreed to move the unnecessary cycle path onto the other side of the A6!
Mark would like to extend his thanks to all those who supported him, by signing the petition, (paper and electronic), Raised the issue with the press, or helped in any other way. Special thanks to John Clark and Stockport and South Manchester CAMRA, Steve Cliffe and colleagues at The Stockport History Society, and Friends of Heaton Norris, for all their hard work. Also Thanks to John Fiddler, who, although situated thousands of miles away in America, put a huge amount of work into the campaign.
If we have left anybody out, our apologies, we couldn't have done it without ALL  of you!
It is Marks intention to organise a celebration once the Christmas rush is over, so watch this space for news!
Thank you all!
The Midland Pub to be demolished for Cycle Path!
Yes, you read that right!
Stockport Council have, today, 11th May 2016, applied for planning permission to build a link road between Travis Brow and the A6 Wellington Road North. Included in the proposal is a shared cycle/pedestrian path which necessitates the destruction of our Community Pub! According to the plans, there is ample room on the OTHER side of the new link road to accommodate another underused cycle path. (See Chestergate and New Bridge Lane to see what we mean!)
Please take the time to call in the pub and sign our petition to get this crazy scheme stopped! (And maybe enjoy a pint of our excellent Real Ales while you are here!)
Camra Pub of the Month!
We are very proud to announce that we have been honoured by Stockport South Manchester CAMRA, by being awarded Pub of the Month for September 2014.
On Thursday 25th December, Mark was presented with Stockport and South Manchester Branch of CAMRA, 'Pub of the Month Award'
Branch Treasurer, Jim Flynn made the presentation and congratulated Mark on his progress in moving the pub forward in the short time he has owned the business.
Thanking the Treasurer for his recognition of the hard work he has put in, Mark thanked CAMRA members for their support and made special mention of his thanks to his regulars, who, in his words, made the pub what it is today, a traditional pub that sells well kept high quality real ales.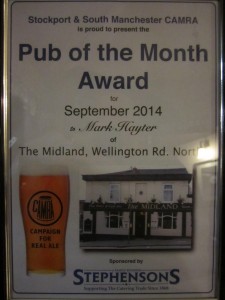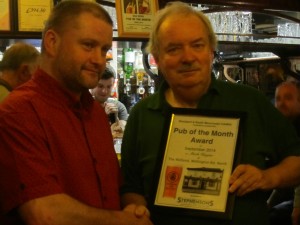 Stockport and South Manchester CAMRA Branch Treasurer Jim Flynn, makes the Pub of the month presentation to Mark